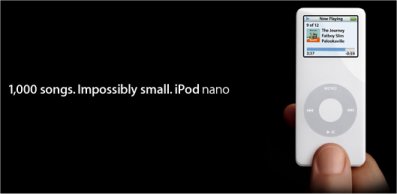 I picked up the 4GB iPod nano not too long ago. I got the black iPOD, which was a little harder to find but I really like the look of it. What really got me was how small this thing really is. They put the dimensions on the add and on the box, which shows 3.5 x 1.6 x .27 inches, but it never really hits you 'till you get one in your hand. This thing is small.
Aside from the size, the another feature I really liked about iPod nano right away was how easy it was to use. Within minutes I had the thing hooked up to my PC and was downloading songs from iTunes. Other attractive points to me were the accessories. There is a multitude of accessories for these things now everywhere, including stereo's you can dock with, different headphones, and the increasing options to iPod your car OEM or aftermarket.
The interface is easy to use. I'll never bread out the manual unless I'm really stuck, and to be honest I don't think I've even looked at the manually for this. Along with songs, you can upload photos, Calendar events, contacts, Podcasts and even rate songs while you listening. With 14 hours of battery life and 100 songs I've no regrets with the iPod nano.
Buy iPod nano [Apple Store]